I finished a bunch of projects over the last two weeks!


A few years back this was one of the most popular knitting patterns on the internet. This pattern came from Knitty, an online knitting magazine that posts free patterns several times a year. The Ravelry pattern search shows that it has been knitted over 17,000 times by users. It's not the pattern that's notable about this project for me, it's the yarn. I knitted it in a green linen yarn that I have held onto for exactly a decade, moving it in and out of six apartments in four cities and two states. I'd bought ten skeins of the stuff on a very expensive whim. The original project went nowhere.




Linen is tricky. It has no spring, meaning that it doesn't stretch like wool (or to a lesser degree, cotton). Until recently, all my favorite projects were stretchy wool scarves and hats made in 2x2 ribbing; linen has no place here. I would take the yarn out every nine months or so, knit with it for a few hours, swear at it, and stuff it under my bed, hoping to forget about it. Any glimpse I got of it was filled shame - for the money wasted, for my inability to complete the original project.

Finally, finally! After ten years, I've made something out of the yarn! I think it turned out nicely. It's knit on the bias, so it has a nice drape to it. It's nice to have a wider, lightweight scarf for the spring.
The Cake That Ate San Francisco


I got a bee in my bonnet early last week about making party foods. The bee was sparked by a couple of pretty pictures in the craft blogs that I read, including of this cake from Craftzine, and so I told Andrew I'd make us a fun party dinner Saturday night.

You'll notice there's not a lot of perspective in the cake picture from the blog. Perhaps if I'd realized just how big it was I might have scaled back the finished product: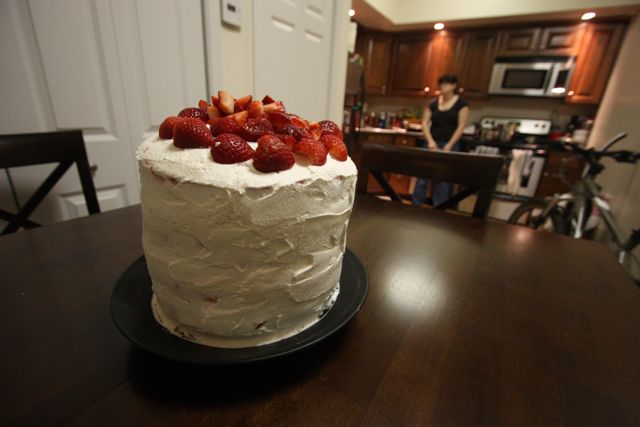 What do you think? It's mighty tasty, but is rather a lot of cake for two people! We could turn it into a fully-furnished IKEA apartment and use it as a weekend getaway. It's covered in homemade whipped cream (I ran out during assembly and had to dash out for more) and strawberries. Here's a link to the original recipe.


Spinach Dip Hors d'Oeuvres

This was the other pretty picture that ignited the cooking spark for me last week. I made a half recipe with Oh Joy's alterations, including using the mini muffin pans. They were very easy to assemble and oh! They tasted fantastic! I thought they were better than regular spinach dip, especially because it has built-in portion control.

Yummy!


For extra credit, check out the Picky Palate, where Joy found the spinach dip recipe. Her recipes are insane! Everything seems to have something stuffed inside it, usually candy bars stuffed inside cookies. If I ever need to double my weight, I'm starting here. (Seriously. There is a cookie recipe that consists solely of ground up Reese's Peanut Butter Cups and eggs.) It's not healthy, not even close, but what a way to go! Make this one for the men in your life.

I'd like to add that I went on a lot of walks last week.

Hungry yet?