Flowers! I love to wear flowers in my hair. Let's dig right in with the first of several projects. You can wear this fabric rosette in your hair or pinned to a sweater. Photo instructions are above, text instructions below.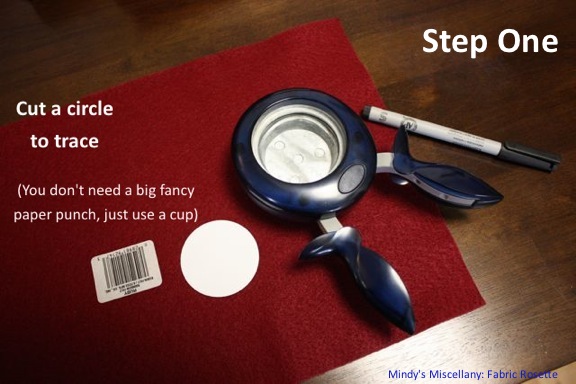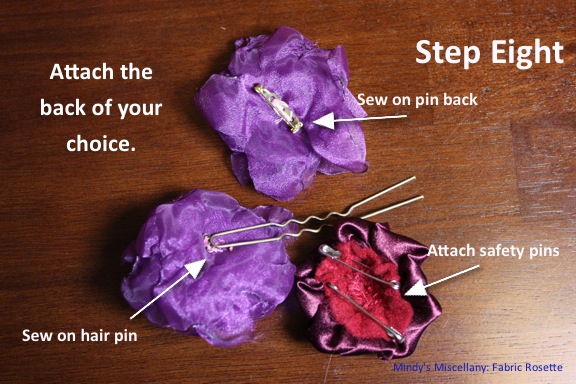 Fabric Rosette Step by Step
Gather your materials:


Scissors


Needle


Fabric: I used a polyester from the remnant bin at the craft store. You could use a knit cotton or thin wool too.


Thread: Try to match the fabric so that it blends in.


Felt: This shouldn't show, but it's nice to use a similar color in case little bits peek out.


Marker


Something circle to trace: I used a 2 cm paper punch, but you could just trace a cup




Cut a circle to trace. I have a wicked cool 2 cm paper punch, so I cut out a circle of paper. You could free-hand cut a circle, or just find something round - like a cup - to trace.


Cut out the felt. This piece is the base, your flower will end up slightly larger than the circle. Adjust the size to your preference.


Cut a long strip of fabric. Your goal is to use a continuous strip, folded in half lengthwise.


Thread the needle (I like to double thread it). Take your strip of fabric and fold it lengthwise with the right side out, then tack one end of the strip to the center of the felt circle.


Fold the strip around itself to create a small gather. Sew the bottom of the strip to the center of the felt.


Continue folding to create gathers, sewing each gather as close to the center as possible. You will spiral out from the center, filling in the felt circle.


The polyester that I used left lots of little threads hanging out from the flower. Clip any hanging threads to clean it up.


Attach the back of your choice. Sew on a pin back or hair pin, or just attach a couple of safety pins. A hair clip can be attached to pin backs and safety pins, making the flower more versatile. Two safety pins will stabilize the hair pin, keeping it in place in your hair.